On June 12, 2008 Nashua Fire Alarm received a call from the Amherst, NH Fire Department for assistance at a building fire on Amherst Road (route 101A). Engine Company 5 and Ladder Company 1 along with the Safety Officer responded at the scene shortly after 1900. The fire was in a large commercial structure that housed several business including the Amherst House of Pizza. On arrival at the scene Nashua companies worked to establish additional water supply lines and aggressively worked to stop the rapidly spreading fire from consuming the entire building. Ladder 1 was requested to gain access to the roof and place a trench cut on the nearly 150 foot structure. Below are a few shots of Nashua assisting at this 4 Alarm fire.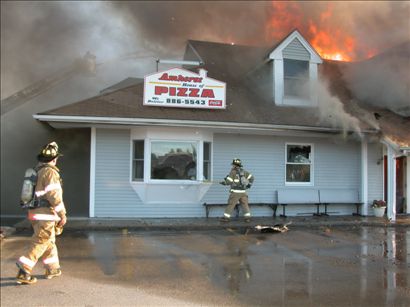 Nashua Firefighter Steve Phillips and Captain Al Borneman of Engine Co. 5.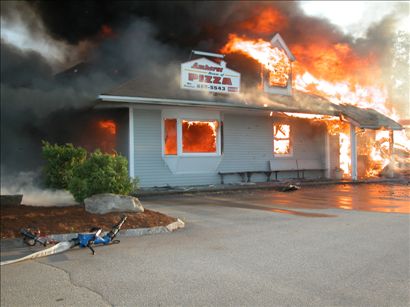 The Blue Blitz is posed and ready for action.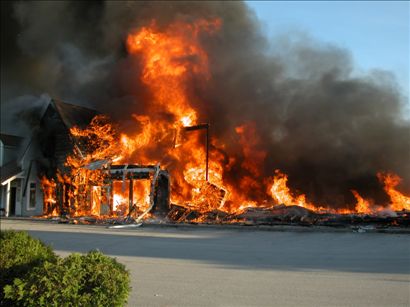 The 1/2 corner of the building.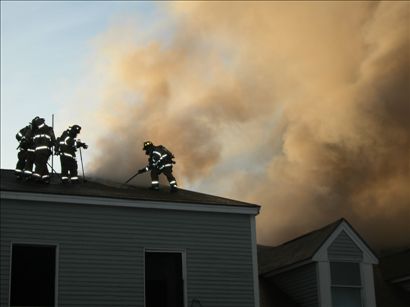 Nashua Ladder Co.1 opening opening up a trench cut on the roof.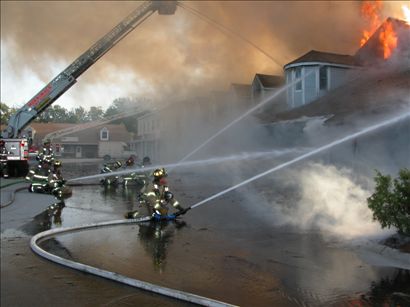 Multiple master streams in operation.
Photos by Al Boucher