3rd Alarm on Blackfoot Drive
At approximately 1015 on March 4, 2008 Nashua Fire Alarm dispatched a reported building fire at 6 Blackfoot Drive. Engine 5, Engine 1, Engine 6 and Ladder 1 along with C2 (Asst Chief Anderson) responded on the initial dispatch. Engine 5 was first due and reported heavy fire showing from a large colonial style dwelling. Ladder 1 had just cleared station 5 after getting fuel and was still in the area at he time of dispatch allowing them to arrive immediately after Engine 5. The 2nd Alarm was requested by Lt. Tom Perault on Engine 5 due to the heavy volume of fire in the rear of the building. Engine 4 and Ladder 2 responded on the 2nd Alarm. C2 arrived at the scene and assumed command and ordered a 3rd Alarm bringing Engine 3 and Tower 1 to the fire. Engine 2 responded on the third alarm after they cleared a medical call. C1 (Chief Morrissey) assumed command of the fire on his arrival and worked with the crews to extinguish the blaze. The home suffered extensive damage. The fire was investigated by the Nashua Fire Marshal's Office. The Hollis Fire Department assisted at the scene with their Tanker due to limited hydrants in the area.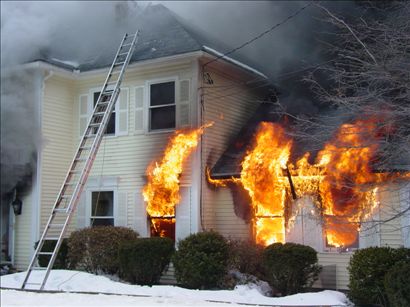 Companies had heavy fire showing from side 1.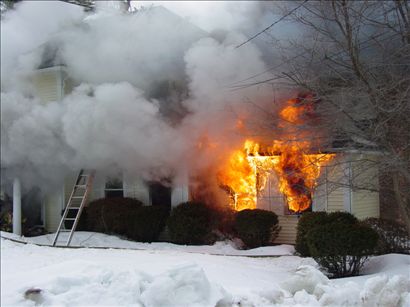 The single family home was approximately 5000 ft2.
Ladder 1 worked to vent the roof.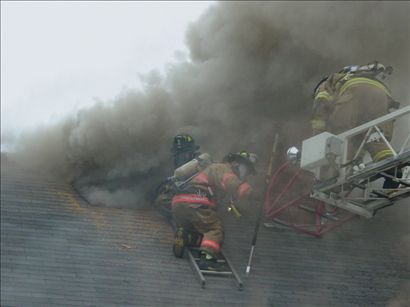 Ladder 1 on the roof.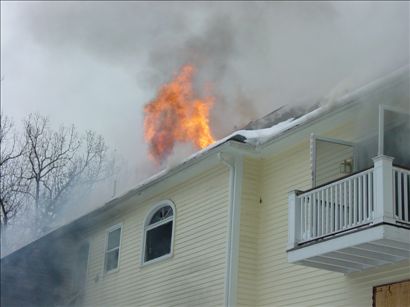 Fire venting from side 3 roof.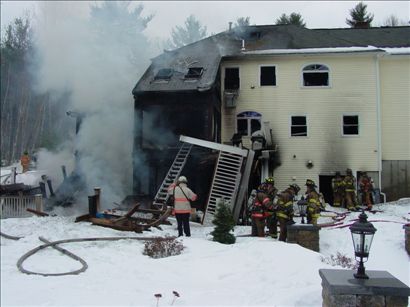 The rear deck collapsed while Engine 1 worked in the rear. No injuries occurred.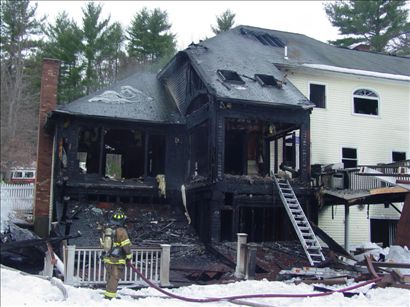 Extensive damage on side 3/4 of the building.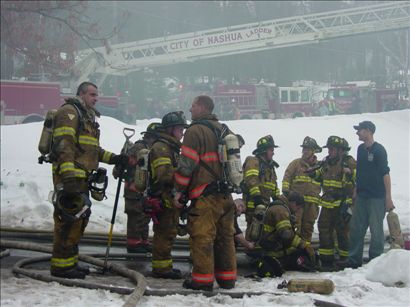 FF Rapaglia talks with Lt Soucy.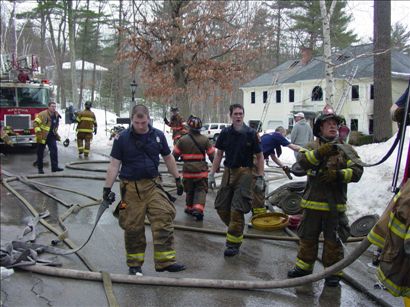 (L-R) FF Todd Weeks, FF Justin Rioux, FF Brian House picking up.
All Photos by Al Boucher